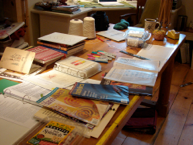 Time to Get Serious
I was having a grand old time messing around with dyes during our last Hill class thinking that I still had one more class before I was forced to leave the "womb" and fend for myself on my 34 independent Master Weaver projects. . . WHEN some cruel person told me that the Master Weaver Clock started ticking on May 5th. Oh no! Did I listen to all the sage advice of my betters and start on my projects early? Sadly no.
So after a period of temporary, deer-in-the-headlights-type paralysis I wove the above sample (planning on a cotton and merino baby blanket) for my overshot tromp-as-writ requirement. Did you see that? A sample! No, two samples. Is it still me? Anyway, I wove 4 different tie-ups and then two samples with a heavier pattern weft. I like the heavier pattern weft – it makes for a fluffier blanket, but I couldn't square it tromp-as-writ so I modified the treadling to "square" the circle. I don't know if it will count as tromp-as-writ for the requirement or if merino will be considered impractical for a baby blanket. But, I still have one more class with Chris so I will get some advice on these issues (ohhhh. . . now I get it – start your projects while you're still in class . . .) In my case "slow cloth" might mean something different.
On a different, but exciting note, I have been asked to teach a class on Deflected Double Weave for the Boston Weavers' Guild. The above photo is my scramble to see if I can put together a two-hour class on my favorite structure. I think I can, I think I can.